Review: Turtle Beach Atom Controller (iOS)
Turtle Beach is a company that is always looking to expand its scope by jumping into different facets of the gaming peripheral space. That said (written), quality mobile gaming controllers are limited to a small number of companies. Turtle Beach threw its hat in the ring back in 2022 with the Atom Mobile Game Controller for Android, and they're back with an iOS version that sets out to rival even the most robust and powerful competitors.
While the device is compatible with the iPhone 11 and up, we tested the Turtle Beach Atom Controller using an iPhone 14 Pro. Rather than be one module that clamps down on the ends of your mobile device, The device comes in two modules, the left and right portions. These two devices pair with each other via 2.4GHz wireless. To keep from losing one of the controller sides, the two sides are magnetically fused. Because of this, both controller halves can be charged at the same time, using the included 3.3ft USB-C to USB-A cable. Also included are two sets of rubber pads. One for standard iPhone models and the other set for the larger "Max" models. Each set is removable so that users can switch out the pads for use with other iPhone models. The controller, pads, and cable, are housed in a drawstring fabric carrying bag marked with the Turtle Beach logo.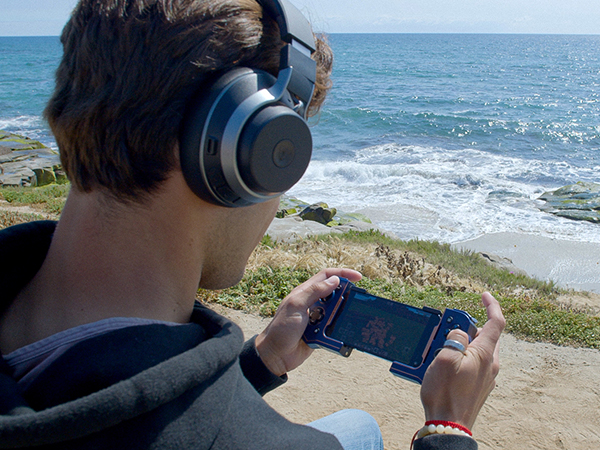 Once the pads are put in place and the device is paired via Bluetooth, the Turtle Beach Atom Controller is ready to go. Did we mention that it's rugged? We may or may not have dropped our device early on during testing. If we did, however, the controller (and our mobile device) held up well, with no scratches or dents.
Once we had the device in our hands, we noticed three things; First, the colors pop. The device has a clean, yet sophisticated design that looks great, but not so noticeable that it will draw users' eyes away from the game. Upon first use, we found that the controller is very ergonomic and comfortable. Not only that, but the controls felt natural thanks to the familiar button layout. The build quality feels great as well, as the controller feels very sturdy and with the controller weighing in at .42 lbs, adds a decent weight to your mobile device, but not so much that it's uncomfortable.
The Turtle Beach Atom Controller for iOS has a huge list of games and services that it is compatible with including Steam Link, Xbox Cloud Gaming, Amazon Luna, and more. While not compatible with all mobile games from the App Store, the list of games it is compatible with is quite extensive, which is available here.
To access games the fastest, Turtle Beach recommends using the Atom app, and we do too. Not only do users have access to the "Game Discovery" option which allows users to browse all available games and services, but said services can be accessed by simply tapping on the logo.
Did you think that that's all the app does? The answer is no. The Atom app also includes an extensive amount of customization options which are universal throughout games and services, rather than game by game. The features that can be customized include trigger and stick dead zones, stick precision, and power management.
While on the topic of power management, the Turtle Beach Atom Controller for iOS, battery life is impressive in this device. one one full quick charge, which takes approximately 2.5 hours, will supply gamers with 20 hours of use, which during our testing, was spot-on.
While we always strive to point out both the positives and areas of opportunity for products we review, in this case, we couldn't find any areas of opportunity. The Turtle Beach Atom Controller for iOS does exactly as advertised, and it does it well. With its sleek design, robust companion app, extensive library of compatible games and services, ease of use, and comfort, this controller should be at the top of everyone's wish list for the holiday season.
The Turtle Beach Atom Controller for iOS is available at retailers now for an MSRP of $79.95.
Review performed using a Turtle Beach Atom iOS Controller, provided by Turtle Beach
Design

Control

Ease of Use